The role of Silybum marianum seed oil
---
---
Silybum marianum seed oil has a protective effect on liver damage caused by carbon tetrachloride, galactosamine, alcohols and other liver toxins. Silybum marianum is an annual or biennial herb, 1.2 meters high. The stem is erect, branched, and ribbed. The rosette-like basal leaves and the lower stems and leaves have petioles, full oval or oblanceolate, pinnately lobed to completely split, glabrous, thin in texture, with hard yellow needles on the edges or lobes edges and tops. The flower heads are large, with branched ends, and the plant contains many flower heads, but does not form an obvious inflorescence arrangement. Involucre globose or ovoid. The florets are red-purple, rarely white. The achenes are flattened, oblong, with the whole edge of the fruit margin, without serrations. Flower and fruit period from May to October.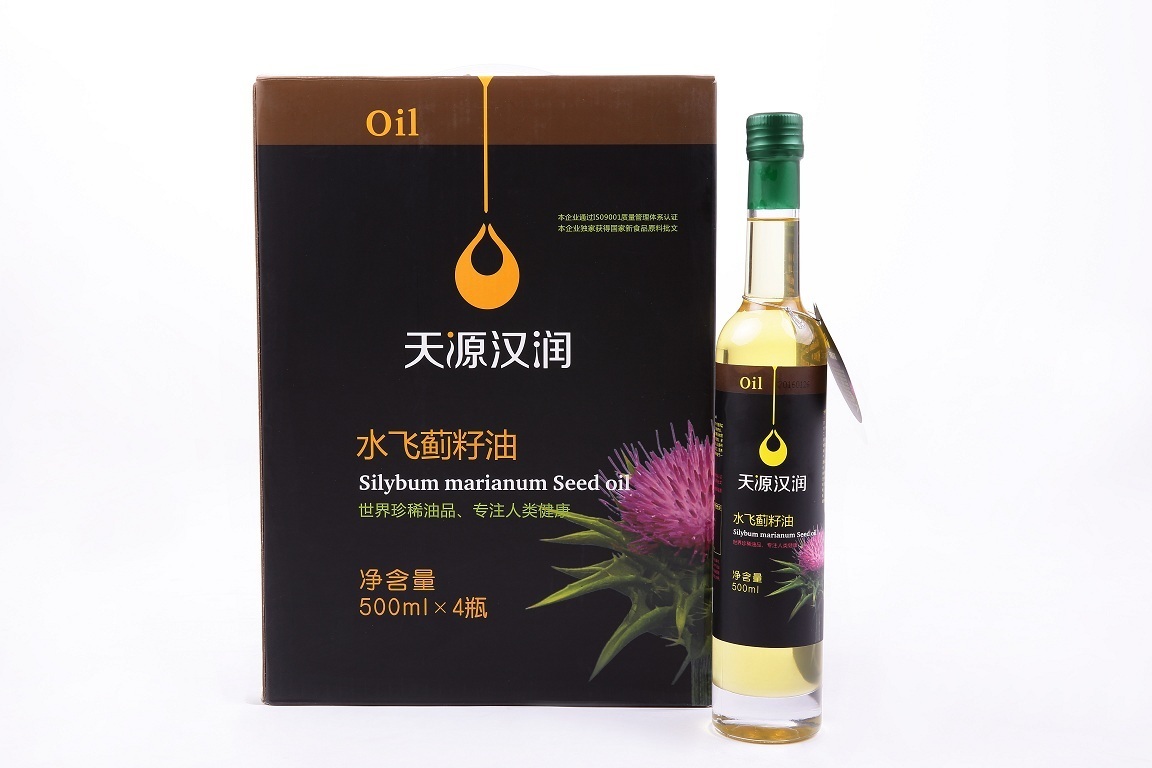 Silybum marianum seed oil is native to Western Europe and North Africa. China is cultivated in Shaanxi, Gansu, Heilongjiang and Hebei provinces. It likes a warm and dry environment, avoids high temperatures and a cool and dry climate, has strong adaptability, and does not have strict requirements on soil and moisture. It can be planted on sandy beaches and saline-alkali land. Milk thistle has anti-oxidation, anti-inflammatory, milk production, liver protection and other effects. It likes a cool and dry climate, has strong adaptability, and does not have strict requirements on soil and moisture. It can be planted on beach land and saline-alkali land. Silybum marianum is resistant to cold and drought in a warm and sunny environment. It is also resistant to high temperature. The young buds can resist (-2) low temperature. The seedling stage is relatively resistant to low temperature. It will not die at -8 degrees. The color of the leaves will darken when the temperature rises. It will return to normal soon after the temperature rises. There is no frost damage. Silybum marianum is also known as water pheasant, milk thistle, etc. It is a herb that is widely distributed everywhere. It is also a common Chinese medicinal material in life. It has the effects of clearing heat and detoxification, soothing the liver and promoting gallbladder, especially for the liver and gallbladder. Damp heat, hypochondriac pain, jaundice and other diseases have good conditioning and treatment effects.
The efficacy and role of Silybum marianum seed oil Around the beginning of the 20th century, German mushroom pickers discovered a herb that can detoxify the poison of mushrooms. Before they discovered this kind of herb, mushroom pickers often mistakenly picked a kind of highly poisonous mushroom, Amanita phalloides, which looks very similar to general non-toxic mushrooms.
Ingestion of this highly poisonous mushroom can cause liver failure and death. Later they discovered that a herb called Silybum marianum with beautiful pink flowers can detoxify the poison of the poisonous mushroom. Even after taking this herb in advance, even if it is eaten again Toxic mushrooms are not poisonous either (the dosage of the herbal medicine is the key). Because the branches and stems of this herbal medicine are cut into pieces to produce a milk-like white bitter juice, it is also commonly known as milk thistle or milk thistle.
Later, traditional herbalists in Germany discovered that this herb can not only detoxify mushrooms, but also effectively treat liver disease. The active ingredient in milk thistle is silymarin. Silymarin is actually the general term for a variety of flavonoids in milk thistle extract. The three main components are Silybin, Silydianin and Silychristin. Silymarin has been listed by the FDA as a nutrient and a drug for the treatment of ingested liver toxicity.