What are the applications of Silybum marianum seed oil
---
---
Silybum marianum seed oil is a new type of flavonoids extracted from silybum seeds, and its main components are silibinin, isosilybin, silymarin and silybin. Among them, silibinin has high content and strong biological activity. Basic and clinical studies have proved that silymarin capsules have the functions of liver protection, immune regulation, blood lipid lowering and anti-oxidation, so it is widely used in the treatment of various liver diseases worldwide.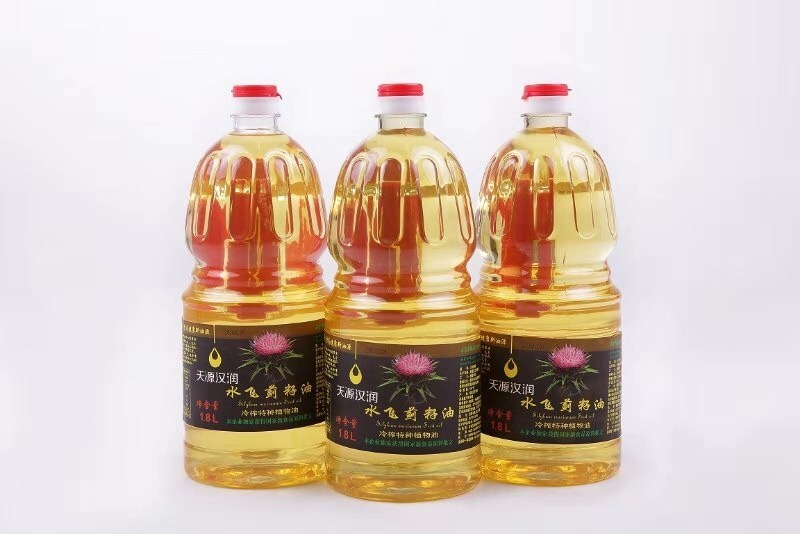 Experiments have shown that Silybum marianum seed oil can protect the liver from chemical damage and other liver toxins, and can also improve the pathological changes of non-alcoholic fatty liver disease. The hepatoprotective mechanism of silymarin capsules is summarized as follows:
1. Antioxidant effect. Reactive oxygen species have strong activity and can react with unsaturated fatty acids to cause lipid peroxidation, damage cell membranes, and cause chromosomal aberrations. It was found that silymarin can significantly suppress the production of ROS by human neutrophils in a dose-dependent manner.
2. Control NO production. Nitric oxide (NO) is produced by activated monocyte-macrophages, endothelial cells, and the like. In pathological conditions such as liver cirrhosis, excessive NO production can lead to hyperdynamic circulation and hypoxemia. In addition, NO also has cytotoxic effects, which can enhance the toxicity of activated monocyte-macrophages. Silybum marianum seed oil can control the production of NO in activated Kupffer cells, thereby weakening the interaction between NO and O2-, and the mechanism may be similar to scavenging free radicals.
3. Protect liver cell membrane. Silymarin capsules have the functions of resisting free radicals, resisting lipid peroxidation, maintaining cell membrane fluidity, and protecting liver cell membranes. In addition, Silybum marianum seed oil can also block the binding of mycotoxins such as cypermethrin and Amanita to specific receptors on the liver cell membrane, suppress their attack on the liver cell membrane and transmembrane transport, and block the intestinal liver. Circulation, enhance the resistance of liver cell membrane to various damage factors.
4. Promote the repair and regeneration of liver cells. Silybum marianum seed oil can completely control the production of malondialdehyde and the enhancement of chemiluminescence after entering hepatocytes. Binding and activation of silymarin receptors can enhance the function of hepatocyte nucleus as a free radical scavenger, especially the activity of RNA polymerase, enhance the transcription of ribosomal RNA (rRNA), and increase the number of ribosomes in the cytoplasm, thereby promoting enzymes and structure The synthesis of protein indirectly promotes the synthesis of cellular DNA, which is beneficial to the repair and regeneration of liver cells.
5. Immunomodulatory effects. Studies have shown that acetaldehyde adducts generated during ethanol metabolism can act as exogenous antigens to stimulate the body's immune system, increase the number and activity of cytotoxic T lymphocytes (CTL) and natural killer cells (NK) in the body, and aggravate hepatocytes. immune damage. After treatment with Silybum marianum seed oil, the number and activity of CTL and NK cells in the blood decreased. It is speculated that silymarin also has a corresponding immune regulation function, and the specific mechanism is still unclear.
The combined application of Silybum marianum seed oil with metformin, pioglitazone, vitamin E, acipolimus, lovastatin and other drugs can improve insulin resistance and liver lesions in patients with nonalcoholic fatty liver disease. In addition, silymarin capsules combined with acipolimus capsules, lovastatin and other drugs in the treatment of non-alcoholic fatty liver disease have good efficacy and safety in improving patients' clinical symptoms, liver function, blood lipids, and ultrasound images.