Research on Water-solubility Milk Thistle for Reducing Liver Fibrosis
---
---
Water-solubility Milk Thistle is a natural active substance extracted from the dried fruit of the Compositae plant silymarin. Silymarin capsule is a natural flavonoid lignan compound, mainly composed of six flavonoid lignans and other small amounts of more It is composed of phenolic compounds, the main components are silibinin, isosilybin, silymarin and silybin.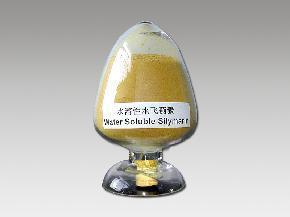 Water-solubility Milk Thistle has been used as a hepatoprotective drug for a long time, and many studies have confirmed that silymarin has very low toxicity. These data support its use as a safe hepatoprotective drug. At the same time, recent studies have expanded our understanding of the pharmacological and molecular effects of silymarin. These new insights may impact the use of silymarin capsules in clinical research and practice. In addition, knowledge in the field of liver disease continues to evolve, especially in the field of nonalcoholic fatty liver disease. German scientists conducted a retrospective review of previous studies on silymarin to evaluate the potential of silymarin in liver diseases.
The results of the study show that Water-solubility Milk Thistle has antioxidant, anti-inflammatory and anti-fibrotic effects, which can significantly improve the degree of liver fibrosis in these patients. Univariate and multivariate analysis showed that silymarin was an independent factor in improving liver fibrosis. Silymarin capsules have good safety and tolerability, and a double-blind clinical study in humans showed that silymarin had a low incidence of adverse reactions.
Water-solubility Milk Thistle is a non-lipophilic, insoluble blend of flavonolignans. The time to peak (Tmax) is 1.0-3.7h, the free plasma half-life is 1-3.2h, and the combined plasma half-life is 3.3-7.9h. The peak concentration (Cmax) of 600 grams of oral silymarin is 53.1ng/ml (free flavonol lignans). ), 84.3 ng/ml (silymarin sulfated) and 168 ng/ml.