Pharmacological characteristics and safety of The milk thistle products extracted by ethyl acetate
---
---
The main component of The milk thistle products extracted by ethyl acetate, silymarin, is a herb of the genus Asteraceae, native to southern Europe and North Africa. Silybum marianum is a European folk herb whose extracts were used in the West for the treatment of hepatobiliary diseases as early as the 4th century BC. The main components of silymarin are isosilybin, silybin, silymarin and silybin, which is a new type of flavonoids extracted from silymarin seeds. Among them, silibinin has strong biological activity and high content. Basic and clinical studies have proved that silibinin has the functions of immune regulation, liver protection, anti-inflammatory, blood lipid lowering and anti-oxidation, so it is widely used in various Treatment of liver disease.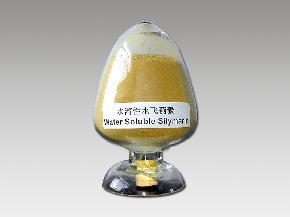 Safety of The milk thistle products extracted by ethyl acetate: A double-blind clinical study in humans showed that silymarin was similar to placebo with a low incidence (<2.4%). A common adverse event was mild diarrhea, and other symptoms included epigastric discomfort, nausea, itching, and urticaria.
Pharmacological characteristics of The milk thistle products extracted by ethyl acetate: Animal experiments have confirmed that silymarin capsules can improve the pathological changes of non-alcoholic fatty liver disease, and the effects of galactosamine, carbon tetrakis, alcohols and other liver toxins liver damage has a protective effect. The hepatoprotective mechanism of silymarin capsules is summarized as follows:
Antioxidative effect: The milk thistle products extracted by ethyl acetate can control the release of superoxide anion from neutrophils to reduce the damage of inflammatory cells to hepatocytes; it can also maintain the fluidity of cell membranes through anti-lipid peroxidation, thereby Protects liver cell membranes. Studies have also shown that silibinin can increase the expression of superoxide dismutase (SOD) in lymphocytes of mice with chronic alcoholic liver disease, thereby acting as an antioxidant. 2. Anti-inflammatory effect: Silibinin can reduce the levels of various pro-inflammatory cytokines, such as IL-6, IL-8, TNF, MCP-1, etc., thereby exerting an anti-inflammatory effect. 3. Anti-fibrotic effect: Several studies have confirmed that silymarin can achieve anti-fibrotic effect by anti-oxidation and directly controlling the activation of hepatic stellate cells (HSC) by various cytokines. 4. Hypolipidemic effect: Experiments in mice have shown that silibinin can reduce the content of triglyceride in the liver, and reduce the level of serum triglyceride and total cholesterol. Moreover, the experimental results of these animals also showed that liver pathology (such as steatosis, inflammation, hepatocyte ballooning, etc.) was improved to varying degrees after silibinin intervention. The study also showed that the drug reduced the weight of the animals tested.
At present, the application of The milk thistle products extracted by ethyl acetate mainly focuses on liver protection, especially in the adjuvant treatment of non-alcoholic fatty liver disease, ALD and liver damage. With the in-depth research on the pharmacological activity of silibinin, silibinin has shown good curative effect in reducing blood lipid, anti-platelet aggregation, anti-tumor and treating diabetic complications, but it still needs to follow the principles of evidence-based medicine. Clinical trials are conducted to confirm its efficacy.