Extraction method and process of The milk thistle products extracted by ethyl acetate
---
---
The milk thistle products extracted by ethyl acetate is a mixture of flavonoid lignans, and the source is the seeds of silybum silybum. Its main components include flavonoids such as silibinin, isosilibinin, dehydrosilibinin, silymarin and silibinin. The milk thistle products extracted by ethyl acetate has hepatoprotective and choleretic effects, and is mainly used for the treatment of liver diseases. Secondly, it also has obvious anti-lipid peroxidation, anti-radiation, scavenging free radicals, anti-stomach ulcer and other effects. It has good effects in lowering blood lipids, preventing and treating atherosclerosis, preventing cerebral ischemia, and resisting platelet aggregation. It is non-toxic, non-teratogenic and mutagenic.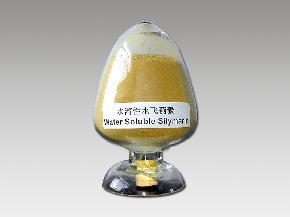 At present, there are two main extraction methods for The milk thistle products extracted by ethyl acetate, one is organic solvent extraction, and the other is alkali extraction and acid precipitation. Among them, in the prior art, the organic solvent extraction method usually adopts the steps of first pulverizing milk thistle seeds, extracting oil and fat by supercritical fluid extraction, then extracting with ethyl acetate, and extracting the extract by supercritical CO2 to remove impurities, and then Get silymarin. The problem with this method is that after crushing the silymarin seeds, the oil cannot be completely extracted, which will have a certain impact on the extraction purity of the subsequent silymarin; another technique is to first shell the silymarin seeds, and then use water The silymarin is extracted from the silymarin shell to avoid the influence of the oil in the silymarin seeds, but this method needs to be shelled separately, and then the silymarin shell must be softened, soaked and other procedures before the extraction of silymarin can be carried out. Extraction process, increased extraction time cost and economic cost.
The milk thistle products extracted by ethyl acetate provides an extraction method of silymarin, which can avoid the influence of oil in silymarin seeds on the extraction of silymarin, and at the same time, it can avoid the step of softening silymarin shell, which not only ensures the extraction purity but also improves the extraction efficiency.
The extraction method of The milk thistle products extracted by ethyl acetate comprises the following steps: soaking the silybum seeds in ethyl acetate for a predetermined time; taking the silybum seeds out of the ethyl acetate, adding the silybum thistle to a shelling machine, The seeds are shelled; the silybum shells are loaded into the horizontal leaching device, and the ethyl acetate and diluent are added to the horizontal leaching device; , stand for precipitation; filter the precipitation, dry, pulverize and sieve, and then obtain silymarin. Using the solution of the present application, the process of softening and soaking is omitted, the overall efficiency of extracting silymarin is improved, and the production energy consumption and production cost are reduced .