What are the main functions and functions of Best Schisandra Chinensis Extract
---
---
Best Schisandra Chinensis Extract has a significant effect on lowering serum alanine aminotransferase in patients with hepatitis B. The mechanism is to inhibit the synthesis of enzymes by hepatocytes, which has no obvious effect on the normal liver, and inhibits its enzyme activity even more on the damaged liver.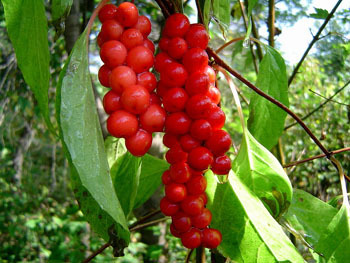 Best Schisandra Chinensis Extract takes medicinal materials, boiled in water, filtered, and obtained medicinal residue → extracted with 80% ethanol, filtered → evaporated the filtrate of the alcohol, precipitated with water → took the precipitate, extracted in gasoline and 80% ethanol → concentrated ethanol → crystallized. It has an effect on improving systemic symptoms, such as loss of appetite, fatigue, and insomnia. It protects the liver and promotes the regeneration of liver cells, enhances the liver's detoxification function and enhances the adrenal cortex function, thereby restoring liver function.
Best Schisandra Chinensis Extract is the dried and mature fruit extract of Magnoliaceae Schisandra Chinensis. It has the effects of astringent and firmness, nourishing qi, nourishing body fluid, and nourishing the kidney and heart. The main active ingredients are lignans such as schisandrin A, schisandrin B, schisandrin A, schisandrin B, schisandrin C, schisandrin A, etc., and also contain pinene and many other volatile oils, citric acid, malic acid, and tartaric acid And other organic acid compounds. Contains the lungs and nourishes the kidneys, produces fluids and sweats, astringes the essence to stop bleeding, calms the heart and calms the mind. Nourishes qi, nourishes body fluid, nourishes the kidneys and nourishes the heart, astringent and astringent. Used for lung deficiency, asthma, cough, and body fluid production. It is used for chronic cough and asthma, nocturnal emission, enuresis, frequent urination, chronic diarrhea, spontaneous sweating, night sweats, thirst from body wounds, short qi and pulse deficiency, internal heat to quench thirst, heart palpitations and insomnia. Loss of thirst, spontaneous sweating, chronic diarrhea, neurasthenia, etc.