Schisandra Chinensis Extract active ingredients and applications
---
---
Schisandra Chinensis Extract is a commonly used traditional Chinese medicine. It is the main component of the classic prescription Shengmai San and the modern preparation Shengmai Injection. It is used to expand blood vessels, protect myocardium and increase coronary blood flow. The volatile oil contained in Schisandra Chinensis Extract has complex components, most of which are terpenoids. According to literature reports, the volatile oils identified in Schisandra include α-pinene, β-pinene, limonene, α-farnesene, α-solanoleene, and dehydroanthene.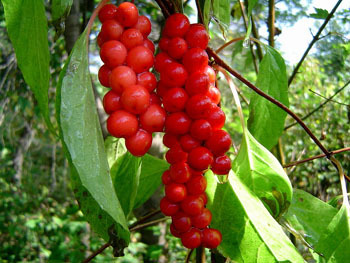 Schisandra Chinensis Extract is an extract from the dried and mature fruits of Schisandra of Magnoliaceae or Schisandra sphenanthera Rehd. et Wils. The fruit contains schisandrin and vitamin C, resin, tannin and a small amount of sugar. It has the effects of restraining the lungs and relieving cough, nourishing astringent essence, relieving diarrhea and relieving sweat. The leaves and fruits can extract aromatic oils.
Schisandra Chinensis Extract is an economic crop with the same medicine and food. It is currently widely used in the fields of medicine and food. Schisandra Chinensis Extract is rich in nutrients, low in toxicity, rich in raw materials, extensive in pharmacological effects, and has high development and utilization value.