Brief introduction of Water-solubility Milk Thistle
---
---
Water-solubility Milk Thistle is a milk thistle extract in plant extracts. It is a silymarin product produced on the basis of the synthesis of silymarin and meglumine. It solves the problem that silymarin is insoluble in water and affects the bioavailability. It can be quickly dissolved in water and is easier to absorb and utilize. The product forms are milk thistle capsules and silymarin capsules.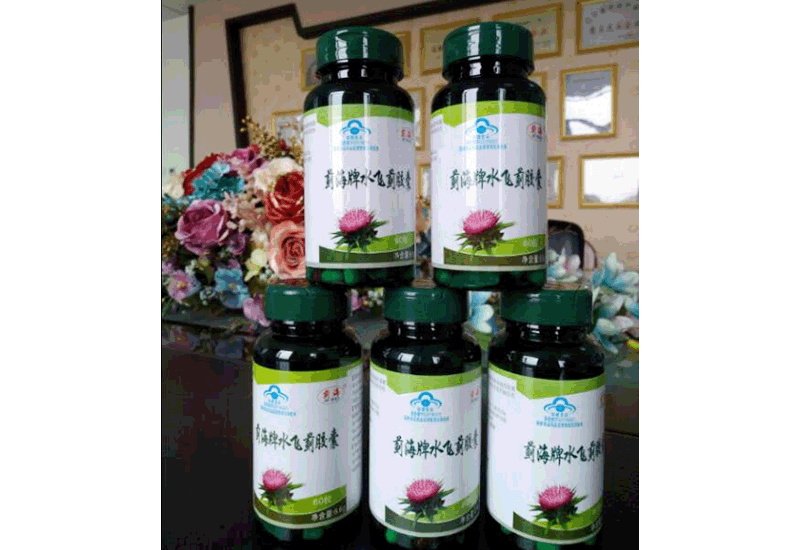 Silybum marianum extract-the water insolubility of silymarin greatly limits its application. After preparation, there are defects such as low solubility of the active ingredient, low bioavailability, and poor drug stability, which seriously affect the effectiveness of the drug. Therefore, the prior art proposes the idea of ​​preparing Water-solubility Milk Thistle. Some people synthesize silymarin and meglumine to obtain the Water-solubility Milk Thistle product, which usually contains 40% of the total flavonoids, thereby solving the problem of silymarin insoluble in water and affecting the bioavailability. It is better soluble in water and easy to absorb and use. The efficacy of Water-solubility Milk Thistle is reflected in two aspects. On the one hand, it can be used to protect the liver. On the other hand, it broadens the application fields of silymarin and can be widely used in the production and processing of functional foods, beverages and cosmetics.
Currently. The stability, clarity, and water solubility of the Water-solubility Milk Thistle solution still need to be continuously improved. Some products become turbid after being dissolved in water for 30 minutes, and some products take more than 15 minutes to obtain a clear solution. The extraction of water-soluble silymarin in the prior art still has the above-mentioned defects and deficiencies, and there is an urgent need to invent a water-soluble silymarin with fast dissolution, high bioavailability, and more stable and a preparation method thereof.
Panjin Tianyuan Pharmaceutical Co., Ltd. specializes in the production and sales of plant extracts, milk thistle extracts, and Water-solubility Milk Thistle. If you need milk thistle capsules, silymarin capsules, please contact us.