What is Water-solubility Milk Thistle?
---
---
Water-solubility Milk Thistle is a silymarin product produced on the basis of the synthesis of silymarin and meglumine. It solves the problem that silymarin is insoluble in water and affects bioavailability. It can quickly dissolve in water and is easier to absorb and utilize.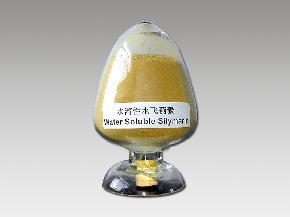 On the one hand, Water-solubility Milk Thistle can be used in medicines that protect the liver; on the other hand, Water-solubility Milk Thistle has broadened the application fields of silymarin and can be widely used in the production and production of functional foods, beverages, health products and cosmetics. Processing.
Water-solubility Milk Thistle is a flavonoid lignan compound, which is extracted from the seed coat of the compositae medicinal plant Silybum marianum. It is a yellow powder with a bitter taste. The main ingredients are flavonoids such as silybin, isosilybin, silibinin and silibinin. Main effects: protect the liver, improve liver function, promote bile secretion and reduce inflammation. As a strong antioxidant, it can scavenge free radicals in the body and delay aging. This product can prevent damage to the liver caused by alcohol, chemical toxins, heavy metals, drugs, food toxins, environmental pollution, etc., and promote the regeneration and repair of liver cells. Therefore it is called "natural hepatoprotective medicine". In addition, Water-solubility Milk Thistle has the effects of anti-radiation, preventing arteriosclerosis, and delaying skin aging. It is widely used in products such as medicine, health care products, food and cosmetics.