The role of Silybinine
---
---
Silybinine is an antioxidant, extracted from a plant called Milk Thistle. Silybinine can stabilize liver cell membranes, maintain the integrity of liver cells, prevent toxins from penetrating and destroying the liver, and accelerate the synthesis of liver cell DNA. It can prevent liver cirrhosis, fatty liver, cholangitis, psoriasis and other diseases. It also has liver cancer and prostate. Inhibition of growth and differentiation of cancer, breast cancer and cervical cancer cells.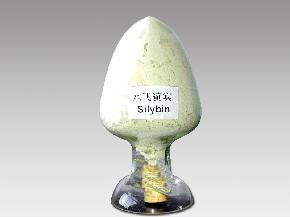 Silybinine is currently the most effective flavonoid for liver disease found in the world. Pharmacological and toxicological test results show that this product has obvious protective and stabilizing effects on liver cell membranes; it is resistant to various liver poisons caused by carbon tetrachloride, thioacetamide, muscarinic, phalloidine, crotaline, etc. Various types of liver injury have different degrees of protection and treatment, and have a certain preventive effect on the increase of alanine aminotransferase caused by carbon tetrachloride.
Silybinine is suitable for the treatment of chronic persistent hepatitis, chronic active hepatitis, initial liver cirrhosis, liver poisoning and other diseases. It is clinically tested in patients with acute and chronic hepatitis, and the symptoms, signs, and liver function have been significantly improved. It is often made into Silybinine capsules.
Silybinine has the characteristics of bitter and cold, clearing away heat, detoxifying, protecting the liver and promoting choleretic effects. It has a therapeutic effect on acute or chronic hepatitis, cirrhosis and fatty liver. It is good for cholelithiasis, cholangitis and peribiliary inflammation and other hepatobiliary diseases. The therapeutic effect. Silybinine can be used for the treatment of sores, swelling toxin and erysipelas, like erysipelas of the lower limbs, and also for the treatment of gallstones, jaundice and chronic cough. Silybinine can be taken orally in decoction, or made into granules and capsules. This medicine does not have too much toxicity and does not cause too many adverse reactions after long-term use. However, it should be safer to use under the guidance of a doctor.