Is Silybin the same as silymarin? What is the difference between Silybinine and Silymarin?
---
---
Silybinine is a flavonoid compound extracted and isolated from the fruit of the chrysanthemum plant Silybum marianum. It has obvious protective and stable liver cell membrane effects, can improve liver function, produce enzyme-lowering effects, and is not prone to enzymes. Rebound. Silybin can stabilize the liver cell membrane and maintain its integrity, and can promote the restoration of liver cell ultrastructure, promote the division and growth of normal liver cells, improve the ability of liver cells to synthesize RNA and protein, and improve the production of the reticuloendothelial system. The ability of phages and strengthen the activity of macrophages, accelerate the clearance of viruses.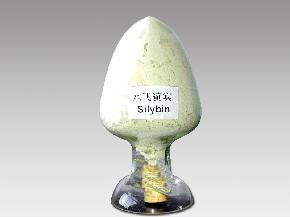 At the same time, silybinine can promote fat transfer and antioxidant effects, prevent excessive oxidation and infiltration of fat, and reduce liver steatosis; it can also promote liver metabolism, enhance its detoxification effect, and reduce the damage to liver cells caused by poisons. Therefore, silybin has the effect of protecting normal liver cells and promoting the restoration of damaged cell membranes.
Silymarin is a natural flavonoid lignan compound. It is a natural active substance extracted from the dried fruits of the compositae plant Silybum marianum. Its main components are silibinin, isosilybin and silibinin. Ji Ning and Si Si Ji Ting. Silymarin is insoluble in water, soluble in acetone, ethyl acetate, methanol ethanol, and slightly soluble in chloroform.
Silymarin has the following effects: protects liver cells from toxic substances, especially alcohol and environmental pollutants that damage the liver; has a strong antioxidant function, can protect liver cells from free radical damage, and is far more effective than vitamin E; promotes The synthesis of protein accelerates the production of new liver cells or allows damaged liver cells to repair themselves. Therefore it is called "natural hepatoprotective medicine". In addition, silymarin has the effects of anti-radiation, anti-aging, preventing arteriosclerosis, and delaying skin aging. This product is widely used in the production of medicines, health products, cosmetics, food and other products.